Character artist
A concept artist is a specialist who develops a virtual design for an object, character, or area of \u200b\u200bspace (non-existent) in the science fiction and fantasy genre.
A character artist works in the game industry and the film industry, and develops character concepts: searches for a visual image of the hero, reflects in sketches and sketches the visual development of the character's character and the "building scheme" of the character, and also produces the final drawing of the characters according to the approved concept, in given style and in accordance with project requirements. Create character poses, features, emotions, individual scenes, etc. It can also develop the entourage of the game or animation world.
Theoretical skills
Trends in modern illustration
Fundamentals of painting and drawing, coloring, composition, perspective
Developed fantasy, imagination
Human and animal anatomy
Directing and screenwriting basics
Principles of psychology of perception of visual information
Understanding the basics of storyboarding, key phases
Understanding the Laws of Animation
Professional skills
Creating an image through character design, movement and facial expressions
Using visual metaphor
Work with various art and painting materials and techniques
Fluency in drawing by hand/on a tablet
Proficiency in raster and vector graphics editors (Adobe CC, QuarkXPress' CorelDraw, SketchApp, etc.)
collage
Work in different styles.Having your own style.
Personal quality
Customer orientation, working with the customer
Professional Communication
Time management, rational organization of the workflow
Independent work
Teamwork
Multitasking, ability to manage multiple projects in parallel
Attention to detail
Responsibility for the result
Self-development, professional development
Features of the profession
Most often, good specialists are required in the field of various entertainment, in the preparation of the basic foundations in the creation of video games, various entertainment with partial (or full) immersion in virtual reality, in the film industry. Also – to illustrate books and stories in fantasy style.
Pros and cons of the specialty
Pros:
the opportunity to realize oneself;
chance to develop in the chosen direction;
of course – high wages;
expanding horizons through the development of skills, a chance to succeed in their field.
Minuses
Among the shortcomings, one should highlight the lack of specialized schools and courses in the region for obtaining a classroom education, and the existing ones are quite expensive.
Priority qualities
To become a truly pro in your field, you should adhere to several principles. First, you must be able to be flexible and adapt to new conditions, a new team, and changing project requirements.
The ability to work in different styles, excellent knowledge of professional programs, skills in drawing the user interface are appreciated, and the ability to create sketches by hand is always welcome.
It is assumed that the ability to draw on a tablet is available as an axiom. With a proper understanding of the tasks set by the customer, you, in general, can achieve considerable heights, and expectations will be justified.
Concept artist training
To get a basic or professional foundation in education, a future concept artist must have an idea of ​​what and how exactly they will teach in a particular educational institution.
Today there is a chance to succeed in the direction and teaching only in special schools. Many universities offer specialized training in design, graphic design with the help of special programs and other tools.
Such skills will help in mastering the desired craft, but do not give an accurate idea of ​​\u200b\u200bit.
Place of work
The acquired skills can be applied in different areas. Self-taught artists often practice their skills on various thematic forums and Internet resources, in clubs of interest, but the real work awaits them in the creation of sold computer games, entertainment centers for creating virtual reality in special "rooms".
Also, masters are invited to create a concept in large projects. For example, the development of software for online casinos, applications for smartphones based on well-known games. The area of ​​the film industry is the most attractive for young pros.
Career
It is a mistake to think that this profession has no potential for development. Partly, of course, such a direction involves only sketches or the final stage of creating a project and, definitely, teamwork.
But there are examples on the world stage of the most talented maestro, whose products have inspired hundreds of thousands and captured the imagination of millions.
Of course, our region is just beginning its journey in this direction, and today many have a chance to achieve excellence and glorify their name.
Professional knowledge and skills
For work, specialists often use traditional tools, such as paints, paper, pencils, and innovative programs such as Corel, Illustrator, Photoshop.
The techniques used are photorealistic, traditional and others. In principle, in order to attract attention, it is necessary to have a high-quality portfolio, otherwise there will be no question of any development.
Since the direction is still developing, the first sprouts appear in our market segment of this vector in training and specialized specialization, it is often possible to attract a potential employer with good examples of work than with education.
Difference from related specialization
It's hard to tell the difference between a concept designer and a concept artist. Most often it takes place somewhere on a subjective level. But it can be said with certainty that these areas intersect closely.
There are artists who go deep into design work and they can only be called Concept Designer. As examples, Alex Senechal or Vitaly Bulgarov immediately come to mind. But the border between these directions is so thin that it will be easier to perceive them as something parallel.
Concept artists are sometimes confused with Matte painter. The situation is similar: Matte painting is a direction adjacent to concept art. In some studios where it is not possible or necessary to create narrow positions, concept artists may also act as background artists.
The main role of a specialist in project development
The task of a concept artist is to shape and enhance the involvement of the viewer.
Professionals in this area are mainly engaged in rendering the world, people and everything connected with it.
It can be as sketches, quick sketches of scenes, characters and situations, as well as high-resolution promo art or keyframes for important episodes in the story.
When creating concepts, it is important to take into account the specifics of the task. You can work on creating a lore, a general atmosphere, or vice versa – you can act within the previously defined framework.
The first option gives more freedom, but also requires a more creative approach. It is important to establish conditional rules and look for an idea within them so as not to get lost.
You need to be prepared for the fact that the work of a concept artist is a constant search for a creative solution. It is necessary to learn to discard unsuccessful options without regret.
What should an environment artist's portfolio look like?
The portfolio must match the position you want to occupy.
If you are an aspiring artist, then the best option would be to find a few performers with a style you like. In the process of your development, you will be able to focus on them and begin to strive to their level.
Do you like what they do? Look at what studios they work in, analyze their portfolio and try to implement something similar on your own.
Examples
There are many examples of concept artist work. If you liked some movie or game, look for the artbook of this project. Most often, you can read about the process of creating a particular scene and the project itself in general.
Analyze whatever you like. Try to figure out why this or that drawing turned out to be so successful, and highlight specific steps or solutions for yourself.
Build your visual library around these works and it will help you create your own creations in the future.
Travel, watch movies, visit museums and art exhibitions. All this will help to accumulate the visual experience you need, which will then turn into amazing concept art.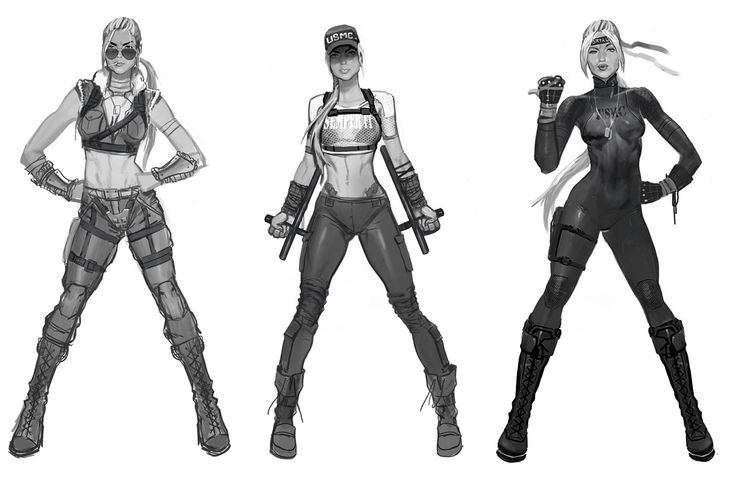 What is concept art
Concept art is an illustration that conveys the mood, the idea of a future game before it takes on the shape of the final product.
Words can describe an idea and everyone will understand it in their own way, a picture is worth a thousand words! It is customary to talk about concept art as a component of the process of working in the media sphere (film production, game development, comics), but the works of concept artists are invested in the creation of the entire environment.
Not a single mode of transport, interior item, urban location or laptop is created from a single sketch. The artist prepares dozens of drawings, of which only a few go to work.
A separate element of clothing is drawn several times, in different colors, textures, shapes, until a variant is born, about which all members of the team say "Here, this is it!".
Where to start developing concept art, how to "consider" the visual style of a future game?
Concept art: choice of style, game design techniques and art work in symbiosis. So, in a military setting, the appearance of a fluffy pink rabbit is inappropriate. Start with a mood board, a visualization board where you gather references, color schemes, images of little things that convey mood and reflect style.
Don't get hung up on details. Look for the right images on Pinterest, where it's easy to create a collection of images in the same color scheme and composition. Show collections to friends to see if the audience catches the idea.
It is better if the test group consists of people who reflect the portrait of the target audience. The next step is idea generation. The artist makes sketches, experiments with silhouettes, shapes, adds text notes, drawing the customer's attention to individual details.
3D blanks from primitives – cubes and balls – will help. The character should be "read" without the final elements of the image. Details, filling, textures, highlights – 10-15% of the work, they only reveal the hero, clarify the story, current occupation, mood. It is wrong to draw a character starting with buttons, nose, eyes.
When the artist sees the image of the future character, he proceeds to a detailed image, creates a sheet with poses in which the character's character is revealed and the general dynamics is broadcast.
Costume design is not a separate story, but a tool that supports the image. Good design, which helps to understand who is in front of him. A few elements of clothing are enough, and not a heap of complex details.
Concept artist: characteristics of a good specialist and where to find him
There is no single price list for the services of artists, it all depends on the amount of work, the experience of the specialist and the time spent on creating the material.
Creating concept art for one character takes about 36 hours. If the task is to draw a scene, for example, for a game of the Hidden Object genre, the artist will need several weeks (drawing the environment and each object is a long process). Do not pursue cooperation with a top and "expensive" artist.
Evaluate portfolios of less experienced candidates to find the perfect balance of price and quality. Make sure that the style of the artist matches the setting, the genre of the game.
The concept artist profession is not universal. If a person has been drawing shooters for years, it is not a fact that he will effectively join the work on a children's educational game. A freelance specialist can be found on forums and portals for artists.
There are tutorials on the net where artists show the process of creating art from a blank sheet to a finished detailed drawing.
Don't be afraid to use other people's ideas. As a result, the artist will get a symbiosis of many references, which can act as a separate unit. Concept art is not a sketchbook.
This is the base on which huge game worlds are created. And the scale of work can only be assessed by seeing the thumbnails of your favorite games!